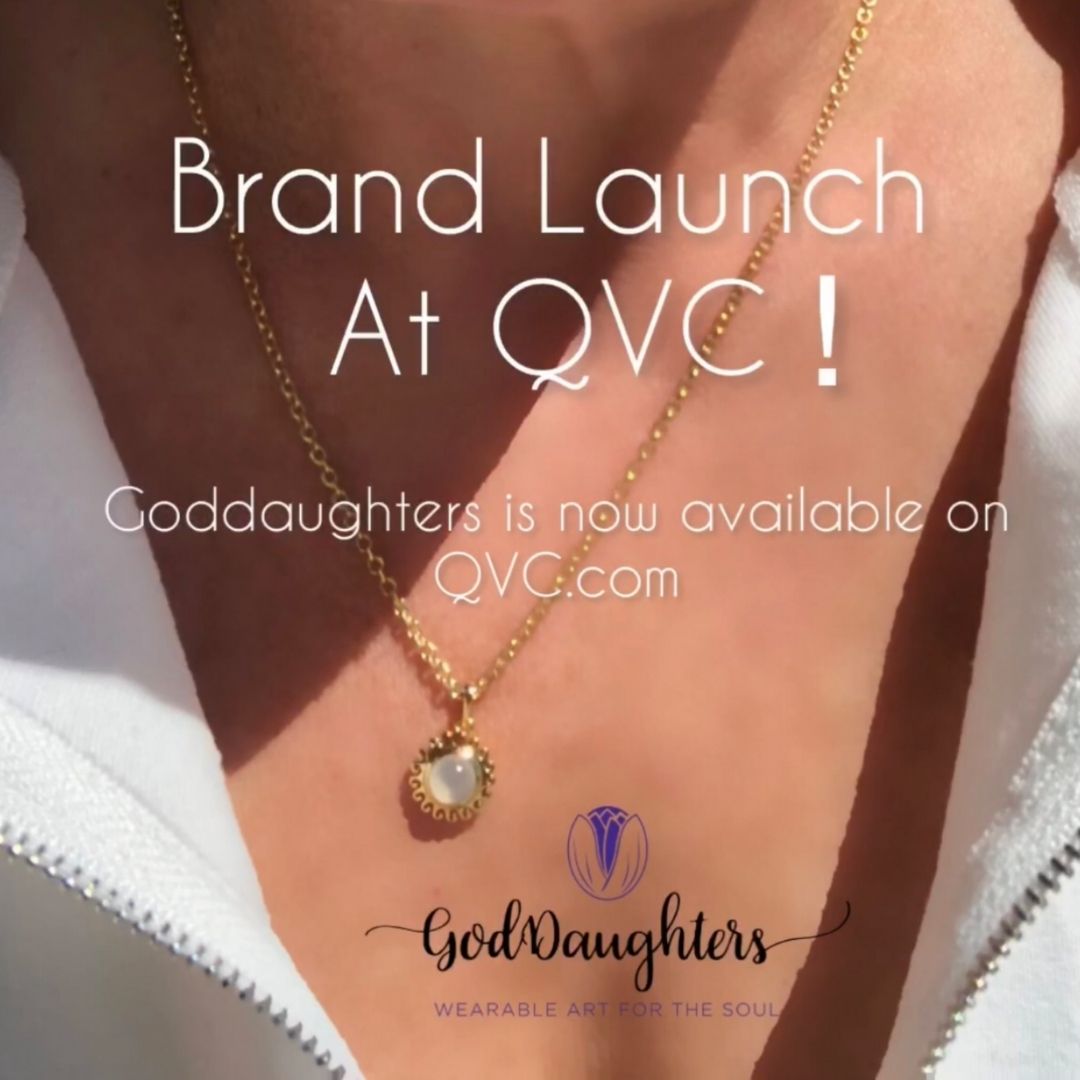 Shop our new designs on QVC.com!
Goddaughters launches new products exclusivity on QVC.com!

Our Goddaughters new Sun Collection just dropped and it's exclusively on QVC.com. This radiant collection features a ring, necklace and stud earrings all made of 14k gold-clad silver with a moonstone center. These unique pieces represent our salute to the power of the sun paired with the balance of the moon. The golden sun imagery carries powerful energy and strength. The moonstone expresses the symbolism of calm and harmony. Together they bring power and balance to your life. Wear them together or separate to enhance your look and your mood.
The Sun Necklace  measurements: Chain is 18"L x 1/8w, Pendant 5/8L x 1/2 "W
The Sun Ring measure 1/2"L x 1/2"W
The Sun Stud Earrings measure approximately 1/4"L x 1/4'W
Another special piece only available on QVC.com is our AngelEyes Heart Necklace. Now you can "protect your peace" with the guidance of an angel sitting on your shoulder. Wearing this necklace, which features an angel-winged heart and evil eye, will bring you the confidence you need to face any challenge with grace. The necklace sparkles with an adjustable sterling silver link chain (16" or 18"). The evil eye is a genuine blue sapphire which is often recognized as a stone of power. This brilliant combination has been known to bring protection, mental clarity and good fortune to the wearer. Perfect for layering or wearing alone, this necklace is sure to bring contentment and  positivity.
Head over to QVC.com and explore the power of the Sun and learn how to "protect your peace" with AngelEyes Heart. Our mission is to forever create wearable art for your soul.
With gratitude,
Angela Deegan, Founder + Creator, Goddaughters