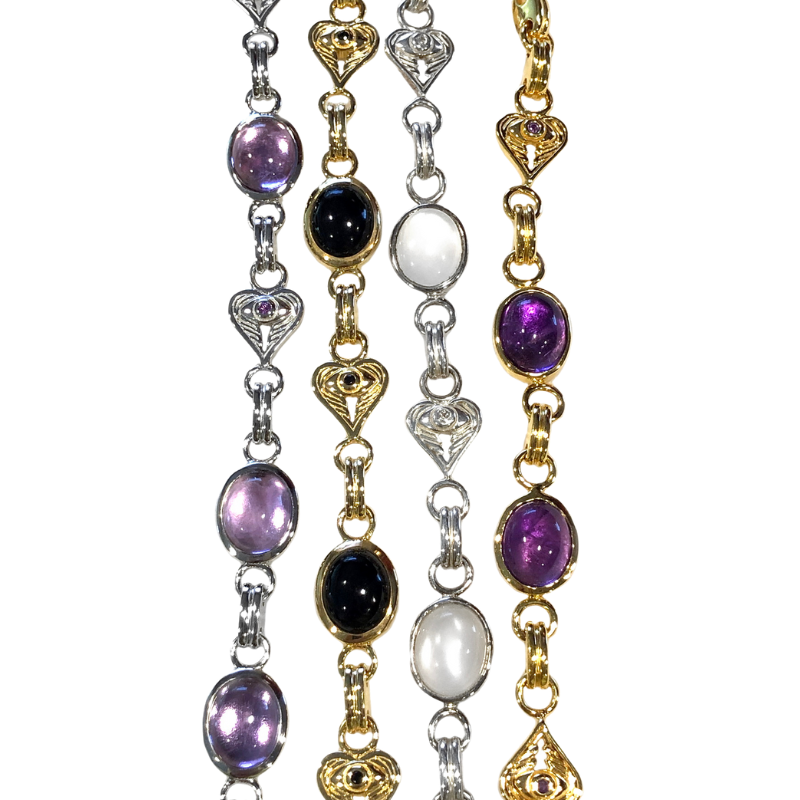 New Arm Candy from Goddaughters just dropped at QVC.com!
Armor up the protection vibes with this all new Goddaughters AngelEyes Heart Link Bracelet exclusively available at QVC.com. The layered up healing properties from gemstones and symbolism of AngelEyes Heart is sure to help Protect your peace!
This link bracelet with AngelEye Heart stations is accented with round stone evil eyes and alternating oval, bezel-set cabochon stones.
The Angeleyes Heart link bracelet is available with your choice of amethyst,onyx,lapis & blue topaz stones.
~ Black Onyx are among the supreme of gemstone healing properties in the gem world. The Onyx stones have been thought to bring powers of protection providing strength, stamina and aids in feeling grounded & focused.
~ Amethyst is referred to as nature's tranquilizer gemstone. This beautiful calming and soothing gemstone has properties known to attract positive energy promoting peace of mind.  Also known as the "All-healer," Amethyst is one of the most effective stones used for healing, assisting in removing negative emotions such as fear, anxiety and balancing the moods of over-stressed and overworked minds. 

~ Lapis is famous for its beautiful blue color: its name means "stone of blue".

A stone of protection it is said Lapis healing properties help to release stress, and induce peace.  A stone for deeper self knowledge, confidence, inner power and harmony. 

Available in 3 different sizes:
Small: 6-3/4" Fit; measures approximately 3/8"W
Average: 7-1/4" Fit; measures approximately 3/8"W
Large: 8" Fit; measures approximately 3/8"W
Check out the AngelEyes Heart Link Bracelet & treat yourself with this sweetness filled with symbols of Peace ~Love & Protection.